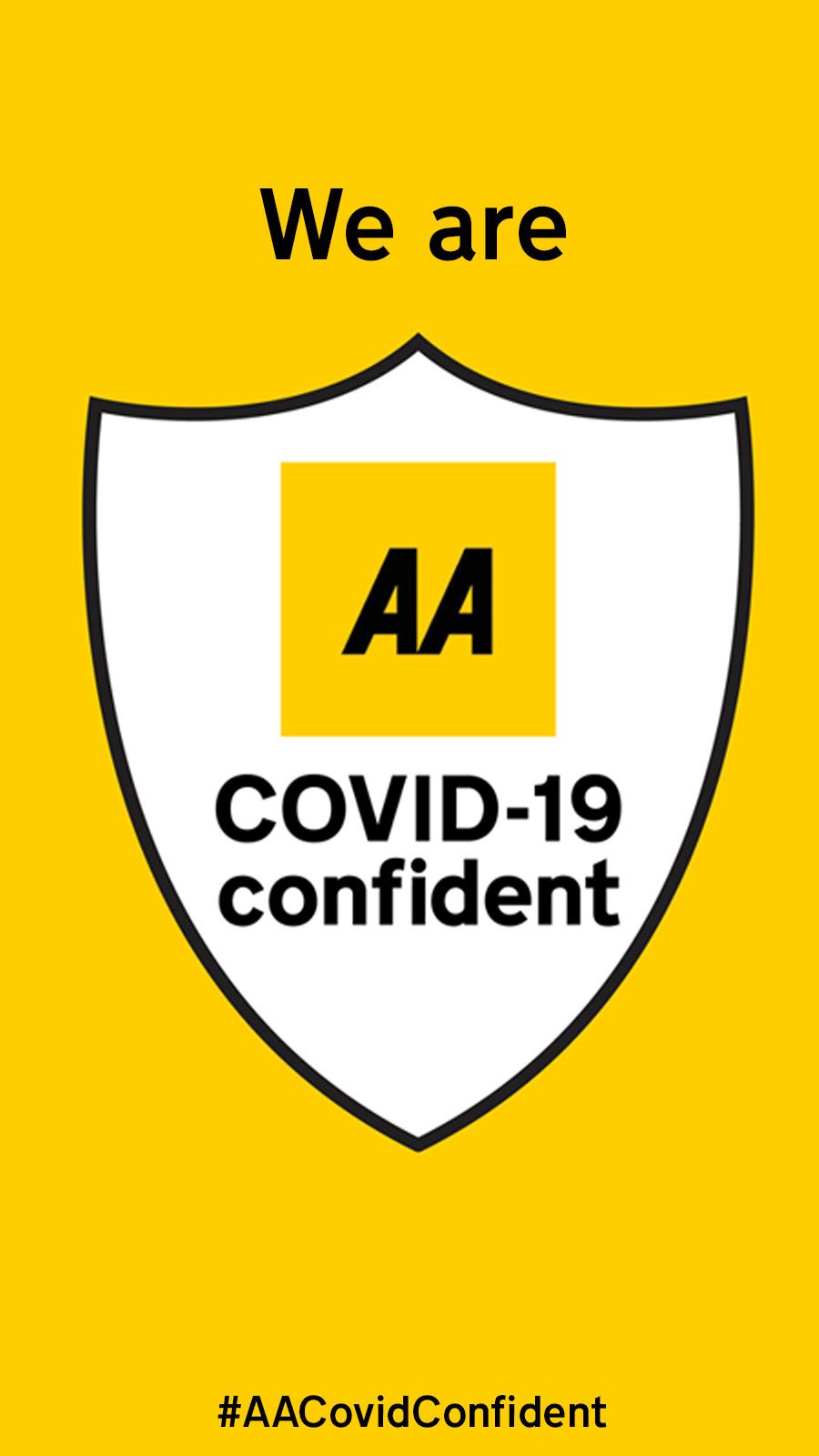 Covid-19 Health & Safety Procedure Certifications at Old Hathern Station Bed & Breakfast...
We have been working hard to ensure that our guests feel safe to stay with us during these difficult times and are delighted to offer the following Covid-19 Cerfitications...
The National Tourist Board for England's Covid-19 Industry Standard 'We're Good To Go' AND The AA Covid Confident Accreditation.
Our hard work has paid off and we look forward to welcoming you!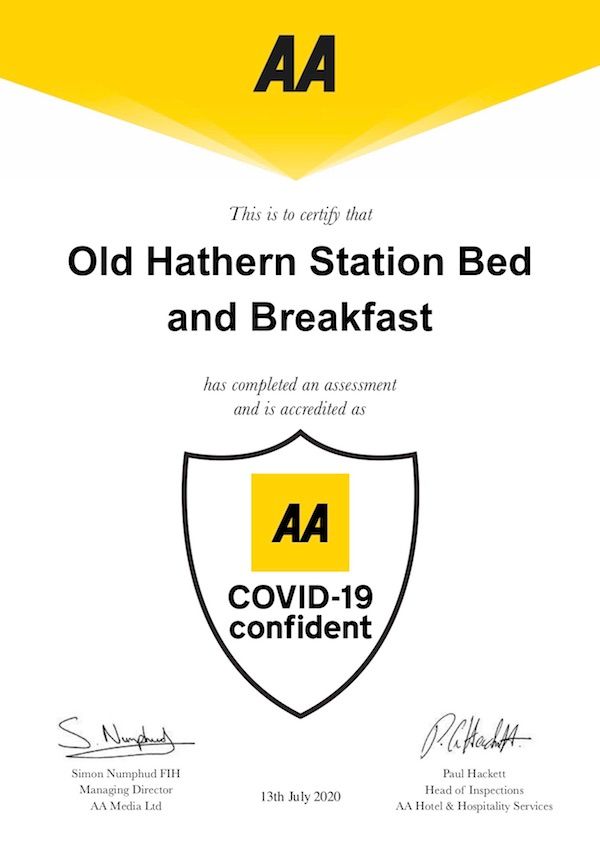 Covid-19 Risk Assessment Information For Our Guests...
The health and safety of our guests is paramount, and as such we would draw your attention to the following measures we have implemented to minimise any infection and make your stay as pleasurable and comfortable as possible:
All accommodation to be pre-booked by telephone, email or website. No deposit will be required.
Only 2 groups to stay simultaneously to ensure 2m social distancing can be complied with.
We request you advise your expected arrival time in order we can open main gate for you. If gate not open for any reason, please ring us and we will open. Guest arrival and departure times will be staggered to avoid congestion.
We shall greet you outside whenever possible and direct you to your room where your wrapped key will be waiting for you.
We request you to scan the QR code with your NHS COVID-19 App to check-in. If this is not possible we shall manually record your contact details to provide NHS Test and Trace if necessary.
Hand sanitiser is available as you enter the property which we require all guests to use, plus a supply of disposable masks, gloves and anti-bacterial wipes will be made available also.
In line with new Government guidance, we request you to wear a face covering in all communal areas which may be removed whilst at the breakfast table; we shall also be wearing face coverings at all times in your presence should you wish us to.
Exterior and stairway lighting is operated by sensors eliminating the need to touch any switches and all communal doors will be left open. The toilet in the hallway will be closed to guests.
We shall be regularly washing, drying and sanitising our hands and will be using PPE as per Government guidance when cleaning and preparing food. We shall be cleaning all communal areas especially contact points e.g. stair rails, door handles and switches more frequently.
Your bedroom windows will be open whenever possible (weather permitting) and we request you leave the room ventilated during the day whenever feasible and on departure.
All toiletries provided in the bathrooms will be individually wrapped, plus further supplies of hand sanitiser and anti-bacterial wipes.
Any non-essential fabric and hard material items e.g. cushions, throws, books, information leaflets etc. have been removed to minimise any infection and aid cleaning routines. Please ask us should you need any local information, directions etc.
Should you wish to remain on site during the day, we would ask you remain either in your room or in any designated outdoor area.
We will offer breakfast either in your room or our dining room. We request you order the evening before from the laminated menu in your room, stating time and method preferred.
We shall ensure only two groups eat together in the dining room at any time to avoid cross contamination and to provide social distancing. The table will be cleared after guests have vacated dining room.
With room service a tray will be placed outside your door and we shall knock to advise you. We would ask you to place tray outside room when finished for collection.
We would request payment during your stay by online transfer wherever possible to avoid any contact.
Room keys to be placed on reception table before departure.
We shall open main gate for you as you leave.
After departure we shall carefully remove and bag bedding,including all pillow and mattress protectors for in house laundry at 60c degrees. Duvets and pillows will be rotated so never used for consecutive guests.
Rooms will remain empty for 48 hours to ensure no risk of infection.
Rooms will be deep cleaned ensuring all contact points e.g. taps, toilet flush, light switches and pulls, door and drawer handles are thoroughly cleaned and disinfected.
All rubbish bins will be either foot operated or open and will be sealed and emptied daily.
All crockery and cutlery will be removed and washed in a dishwasher at 60c degrees+.
Should any guest show any COVID-19 symptoms prior to their visit we would expect them to cancel/rearrange following testing or a minimum 21 day period.
Any guest displaying symptoms during their visit would be requested to leave immediately if well enough to do so, or self isolate until relocation can be arranged.
Obviously should either of us develop symptoms, we would cancel all bookings until safe to reopen.
Guest contact details will be retained for 21 days after departure to assist the Government "Test and Trace" procedure.
We would welcome any advice or suggestions where we might improve these measure and trust they give you the confidence to safely enjoy your stay with us.
This risk assessment is a "living" document open to amendment as Government guidance changes to help prevent the spread of COVID-19 and as such we would recommend you re-read immediately prior to your visit to check for any updates.
Marilyn Dann